About Us
---
Our Company
City Cab was originally founded over 40 years ago. In 1993, the company was bought by a group of independent taxicab owners, who had a vision to provide safe, reliable and professional service. We have grown since then, but our values remain. Our white cars have been driving the streets of Yellowknife ever since.
City Cab (1993) Ltd is a shareholding operating company serving the residents, tourists and business professionals in Yellowknife and surrounding areas for over 40 years. City Cab prides itself as being the leader in the Yellowknife taxi industry and is presently the longest operating taxi company in the Northwest Territories.
With a fleet of over 90 cars on the road, available 24 hours a day, City Cab features one wheelchair accessible van. If you need a cab from downtown Yellowknife, chances are the first one you will see is a City Cab taxi.
Another important factor is that at City Cab, most of its 45 shareholders are also active drivers owning at least one share in the City Cab fleet.
Perhaps one of the most important reasons for our success is our commitment to providing the highest standard of customer service. Our management consistently monitors the fleet and the performance of our drivers to ensure our customers receive only the most efficient, courteous, safe and comfortable transportation service. City Cab has the most technologically advanced computerized dispatch system in Yellowknife. Using global positioning satellites, we handle on average 10,000 trips a week. Our system helps connects customers to taxis in the most efficient way possible.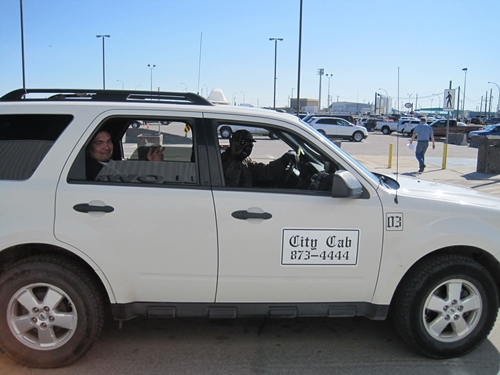 Our Staff
---
Drivers
At City Cab, we are fortunate to have some of the best drivers in the business. Most of our drivers are seasoned veterans with over 15 years' experience. They are independent contractors with excellent knowledge of the City of Yellowknife and surrounding area. All drivers are fully licensed and trained, and have been screened for criminal background checks.
Many of our drivers are also shareholders in City Cab (1993) Ltd. The pride of vehicle ownership and the small business status of our independent contractors makes them more responsible towards customer service and the maintenance of their vehicle
Administrative Staff
The City Cab administration office looks after accounting functions, planning and overall organization of the company.
Contact Savannah Perna (Office Assistant) at 867-920-4444 ext. 2, for setting up a new account, account receivable, event planning, vouchers, invoice queries, marketing and complaints.
Contact Abdirahman (Nero) Mohamed (General Manager) at 867-920-4444 ext. 1, for accounts payable, pre-paid accounts, share ownership, and employment opportunities.
Dispatch staff
Our experienced dispatchers are vital to City Cab and allow us to offer our prompt and efficient taxi service. They work to ensure that our drivers and passengers depart from their location and arrive at their destination in a timely, efficient and safe manner.
As well as being trained in our computerized dispatch system, our dispatchers have high school diplomas and are familiar with Yellowknife's streets and buildings. Many of our dispatchers have been with us for ten years or more!